ANAHEIM — The day started like any other for Angels rookie lefty Reid Detmers.
Detmers had his usual routine of relaxing on the couch alone in the clubhouse before the game to lock himself in mentally, warmed up in the bullpen without feeling especially sharp and was set to pitch to catcher Chad Wallach, who was just called up the day before and had only caught him during a bullpen session once in Spring Training.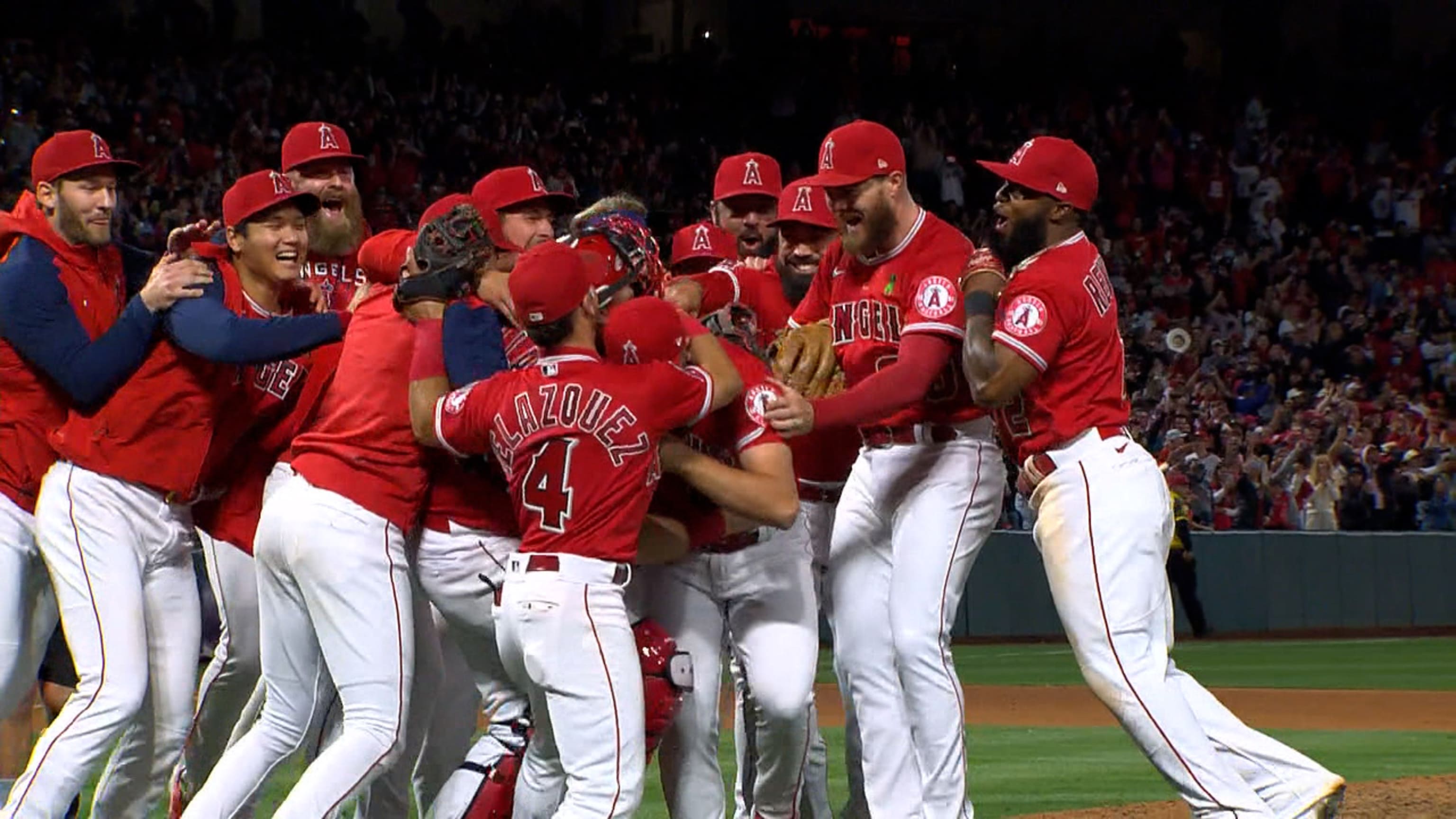 But it ended with history, as Detmers threw one of the more unlikely no-hitters in recent memory in just his 11th career start. The 22-year-old former top prospect accomplished the feat in a 12-0 win over the Rays in front of a large crowd of jubilant fans at Angel Stadium. Detmers entered with a 6.33 ERA in 10 career starts, and while he had shown some glimpses of turning the corner in recent outings, it was telling that manager Joe Maddon was even asked before the game if there was a chance Detmers could be sent back to the Minors for more seasoning.
Detmers, though, showed why he was so highly regarded, entering the year as MLB.com's No. 1 left-handed pitching prospect in baseball, limiting Tampa Bay to one walk and an error to complete the no-hitter despite striking out just two batters. Detmers was still in disbelief after the game, saying he "blacked out" on the mound and had trouble even recalling some of the final inning, which ended with Yandy Díaz grounding out to shortstop for the final out.
Detmers, the No. 10 overall pick in the 2020 Draft out of the University of Louisville, had never pitched deeper than six innings as a professional, including 14 Minor League starts, and had never thrown more than 97 pitches in an outing. But Detmers easily surpassed those totals, needing 108 pitches to complete the no-no.



Maddon noted that Detmers pitched inside more effectively in this outing, which allowed him to throw his changeup a career-high 24 times. He usually leans heavier on his curveball and slider.
"It's life-altering, in a sense, as a young man and a Major League player," Maddon said. "Hopefully, we're going to get a lot of residue at the end of that, because he's capable. That's how he should pitch and that's what he should look like more often.
It was the 12th no-hitter in Angels history and the first since Taylor Cole and Félix Peña memorably combined to throw one against the Mariners on July 12, 2019, in the club's first home game since the death of pitcher Tyler Skaggs. And it was the first individual no-hitter since Jered Weaver threw one against the Twins on May 2, 2012. It was also the second no-hitter thrown in the Majors this year, as five Mets pitchers combined to throw one against the Phillies on April 29.



Wallach, who had never caught a no-hitter before, said he noticed Detmers had his changeup working early, so they went to it often — and it caught Tampa Bay off-guard.
"We had a plan going into the game, but we pivoted a couple times," said Wallach, who also hit a three-run homer. "The changeup was probably not the pitch we expected it to be. He spins the ball a lot. But we saw how good the change was in the first couple innings, and we just ran with it."