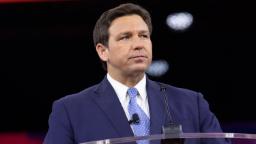 Still, there are stories on the domestic front that have also been making waves, both from a statistical angle and for their political implications.
Florida Gov. Ron DeSantis positions himself for 2024 run against Donald Trump
DeSantis seems like he's the next major "free media" beneficiary. One of the few non-Ukraine news stories to break through in the last few weeks was the outcry over the new Florida legislation that critics have dubbed "Don't Say Gay." (My colleague Zach Wolf has a strong article on what is actually in the bill and what it means.)
Indeed, DeSantis is continuing to lap other potential non-Trump 2024 candidates in Fox cable mentions. In about the last six months, "DeSantis" has been mentioned 920 to 950 times (depending on the day you start counting from), per the Internet Archive's Television News Archive. "[Mike] Pence" and "[Ted] Cruz" have been mentioned about 900 times — combined.
The same was true nearly a year ago when I wrote "How the numbers show Ron DeSantis' stock is rising." It doesn't hurt DeSantis that the bill that recently passed in Florida is popular among Republicans, both in-state and nationally, and that he is a strong favorite for reelection as governor this year.
The idea behind my piece in 2021 was that DeSantis should be considered a Republican front-runner for 2024, if Trump decided not to run.
At this point, I think we can replace "a" with "the" in that last sentence. To be sure, Trump is the favorite for the GOP nomination in 2024 if he runs, but DeSantis is clearly the next most likely nominee.
The Florida governor is second in pretty much every national 2024 GOP primary poll that includes Trump as an option. He's also the only other Republican to almost always crack double digits in these polls.
When Trump is not included, DeSantis has the advantage in nearly every survey, usually polling in the mid-20s. That's quite similar to where Biden was in early 2020 Democratic primary polls. It's an enviable, though not infallible, position.
But while Trump had a higher favorability rating among Republicans than DeSantis (74% versus 52%), DeSantis' favorability rating among Republicans who were knowledgeable enough to have an opinion was higher than Trump's (about 83% to about 75%).
We'll have to see what happens once Republicans nationwide know DeSantis as well as Republicans in Florida do.
Recomnded Reads:-

'CODA' wins top prize at the 2022 Producers Guild Awards
Violent crime continues to rise in major cities
This year, the pandemic has been less of an issue, but rates of violent crime still seem to be rising in the biggest American cities.
All three cities have seen similar (in the case of Los Angeles) or larger (45% in New York and 34% in Chicago) increases in their overall crime rates within the past year.
The good news from the stats is that the murder (or homicide) rate does seem to be down in all three cities. Unfortunately, the murder rate tells only part of the story.
We'll see if this eventually translates into crime becoming a bigger national story. As I pointed out in January, it hasn't yet.
For your brief encounters: No one wants to hear about your NCAA bracket
One thing I will point out is that only about 15% of Americans even fill out college basketball brackets every year. Given that low percentage, I can assure you that no one really wants to hear how good or bad you're doing at predicting results.
Leftover polls