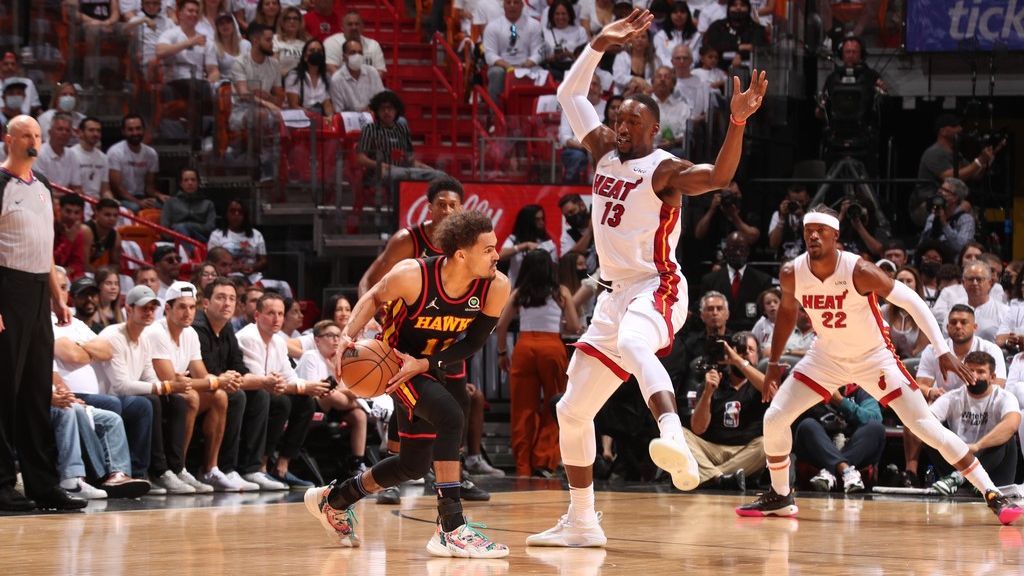 The Heat's defense might have suffocated Atlanta Hawks star Trae Young all game
in Sunday's 115-91 Game 1 win of their first-round series, but the East's No. 1 seed knows it can't expect Young and the eighth-seeded Hawks to go quietly.
"He's going to score the ball," Heat forward P.J. Tucker said of Young. "That's one game. You look at it as that. Treat him the exact same way the next game. Expect him to take a lot more shots and be a lot more aggressive so we got to bring that same type of energy and even more. Because he'll be better."
After averaging 31 points in Atlanta's two play-in wins to earn the No. 8 spot, Young was bottled up on Sunday as he scored a career playoff low 8 points on 1-for-12 shooting (0-for-7 from 3) and had more turnovers (six) than assists (four). His 8.3% shooting mark was tied for the worst field goal percentage of his career — including the regular season and playoffs — according to ESPN Stats & Information research.
The Hawks scored the first three points of the game, but it was all Heat from there, with Miami leading by as many as 32 points in the fourth quarter. Hawks coach Nate McMillan, cognizant of the quick turnaround from Friday's play-in win in Cleveland to Sunday's 1 p.m. local tipoff in Miami, pulled Young with two minutes, 34 seconds remaining in the third quarter and kept him on the bench the rest of the game.
Recommended Reads-

PSG 2-1 MARSEILLE: NEYMAR, KYLIAN MBAPPE SCORE IN LE CLASSIQUE TO MOVE HOSTS CLOSER TO LIGUE 1 TITLE
"Miami played at another level," McMillan said. "We have to get to another level. There is another level of intensity where you are locked in on winning every possession. We have to execute and value every possession in these games."
The Heat sounded convinced that they will see a better version of Young in Tuesday's Game 2.
"Listen, he's going to make more than one shot," said Kyle Lowry who had 10 points and nine assists. "He's going to have more than four assists. He's going to explode. But we just got to stay patient and stick with what we do."
Miami, which ranked fourth in the NBA in defensive rating during the regular season, employed switching schemes on Young in an effort to neutralize him when Atlanta tried to spring him free by setting screens on his primary defender. The Heat's defense was fortified by the return of Bam Adebayo, a perennial Defensive Player of the Year candidate, who overcame a recent bout of COVID-19 to play for the first time since April 8.
"Keep him in front," explained Jimmy Butler, who scored 21 points on 9-for-15 shooting, when asked about Miami's strategy on Young. "He is constantly breaking down defenses and causing you to help, and if you don't help it's a layup, [or] it's a floater. And if you do help, he's hitting the right guy every single time [with a pass]. I think we did a great job of not fouling and just moving our feet and staying in front of him."
The Heat switched 21 times against Young in Game 1, according to Second Spectrum, allowing 0.8 points per direct pick. During the regular season, Young averaged 0.96 points per direct pick against all opposing defenses that switched against him, showing Miami's expertise in that department on Sunday.
Recommended Reads-

Ed Sheeran Biography Early Life Carrier Net Worth Achievements
"It's all hands on deck," Heat coach Erik Spoelstra said when asked about his team going away from Caleb Martin as Young's primary defender, as the Heat did in the regular season, and rotating the assignment Sunday. "Whatever is required."
Trae Young acknowledged the fatigue that that schedule caused, but admitted that Miami's defense played a factor in tying his own low-water mark for the second-most 3-pointers he has attempted in a game without a make.
"You definitely feel the heavy legs, but you have to give them credit," Young said. "They came out aggressive, they came out with a lot of energy."
Which is precisely the approach the Heat are expecting from Trae Young in a bounce-back effort.
"You better be on edge," said Spoelstra. "You have to be on edge. That team can really score in bunches. Obviously Trae Young can just ignite at any point. So if you relax at any point, all of the sudden he hits a couple, that can turn into a lot more. You have to respect that.
"And our guys have that respect, but even with respect, even with being on edge, he's still capable. That's why we'll just have to be ready for Game 2 and somehow erase this memory and keep that edge."
Trae Young, who led Atlanta to a surprise conference finals appearance as the No. 5 seed last year when the Hawks went up 1-0 on the eventual champion Milwaukee Bucks before losing the series in six, said that experience is a reminder of how momentum can swing.
"You have to win four games to win a series, you don't win one and win it all," Young said. "If that was the case, we would have been in the Finals last year."
Source-espn