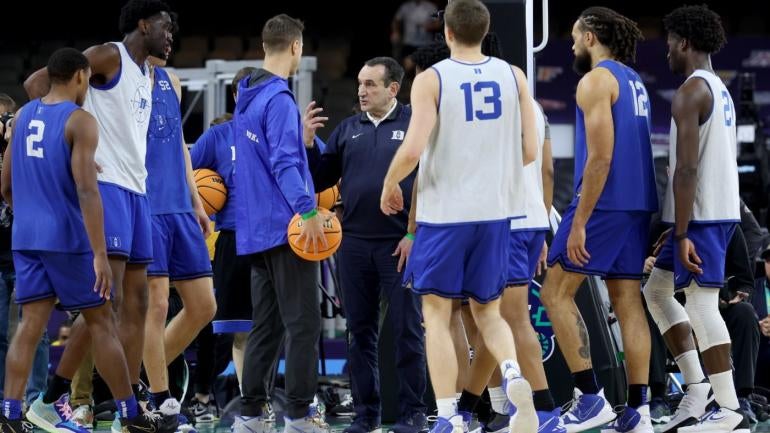 This Tar Heels vs. Blue Devils game in the Final Four is the most anticipated national semifinal in NCAA Tournament history
 Duke vs. UNC NEW ORLEANS— The 47-year coaching veteran sat at the dais in front of an anxious and eager army of reporters waiting to hear from Mike Krzyzewski one day before the most anticipated national semifinal in NCAA Tournament history.
It was his last face-to-face with the horde of hacks prior to the game. Hated blood rival North Carolina awaits Duke Saturday in the Final Four. What would be the final questions, what would be the final words to document from Coach K in this moment?
"One thing, before answering anything," he said after injecting a quick thought on playing against UNC. "I don't know if I'll ever get a chance to talk to all of you again. Not that I'm thinking negatively about tomorrow, but I want to clear up one thing."
You could practically hear the throng adjusting in their seats, ready for what might just be the type of quote to set the stage for the biggest game ever in college basketball's biggest and most storied rivalry.
Except: no.
Instead, the wily 75-year-old diagrammed a different play and changed the conversation. Krzyzewski proceeded to unfurl a monologue directed at his continued grievance toward the NCAA and how poorly it's run. It was well thought out, and Krzyzewski made good points. He went on long enough, insistently in his style, as to prompt follow-up questions about the topic. The man only had so much time on Friday, so by the end of his presser, only one further question (about Tar Heels coach Hubert Davis) was answered. Then time was up and Krzyzewski shuffled off the stage, possibly for the final time.
The gambit was successfully pulled. K played the media like a greased-up N'awlins trombone. There are no big quips or must-hear soundbites to hear from the most famous coach in college basketball in advance of Saturday night's humongous affair between the Blue Devils and Tar Heels. Build your own hype.
Recommended Reads:-

#43 Robert Downey Jr Complete Biography with best experience
You know we will.
You just know getting a chance to avenge that last home loss to UNC exactly four weeks ago is stirring up something irresistible in Krzyzewski's soul. When the eighth-seeded Tar Heels and second-seeded Blue Devils finally tip sometime close to 9 p.m. ET on Saturday night at Caesars Superdome, a significant chapter in the annals of American sports history will materialize. True, the NBA is basketball at its best and most beautiful. But no stage in hoops is bigger than a men's Final Four — both literally and figuratively. Given the sagas behind these programs, and with North Carolina's emphatic 94-81 win to close the Coach K era at Cameron Indoor Stadium, it's fair to allege that UNC vs. Duke is the biggest Final Four game ever.
Of the little he did say on Friday about the game, Krzyzewski tried to downplay the rivalry angle. The gall of this man! 
"I don't know that it's more important, but it's not more important because it's North Carolina," Krzyzewski said. "It would always be important if it's North Carolina. It's the most important because if you win you get a chance to play for the national championship. And that has to be your focus. That's the focus."
How will it play out? How will these teams approach this mammoth matchup? For Duke — a four-point favorite — it has a chance, if it chooses, to adopt an underdog mindset specifically because of the way it lost the last time these teams met. It was a punking. It's — for only another few hours — the most significant win in Duke-Carolina history. 
"For us, I think we've always gone in with the underdog mentality," Duke's Wendell Moore Jr. said. "Because, even though we're picked the favorite to win, everybody wants us to lose. So, for us, that puts us as the underdog and it gives us that chip on our shoulder that we need. To really go out and play confident and free."
Is there a benefit for Duke at play here, for it having lost to UNC the way it did?
"Definitely, especially after the game, just that feeling of defeat, even ACC championship you can say the same thing," Duke sophomore center Mark Williams said. "Just understanding that feeling of, damn … that's it. There's no more home game, there's no more ACC championship. So definitely just understanding that feeling, keeping (it) in the back of our minds every time we play."
This News Source Is Taken from NBS Source CBS
Recommended Reads:-

#40 Mel Gibson famous Hollywood star complete biography